On the morning of October 17, 2020, at the opening ceremony of the 2020-2021 school year of Nha Trang University, Mr. Nguyen Thanh Tuyen, Vice Chairman of Association for Promoting Education of Khanh Viet Corporation (Khatoco), awarded 22 scholarships worth VND 110 million to the students.
Speaking at the opening ceremony, Assoc.Prof. Dr. Trang Si Trung, Principal of Nha Trang University expressed his thanks to the businesses for their support to Nha Trang University during the previous time. He especially thanked Khatoco for taking care of and awarding scholarships to the students achieving good academic results against difficult familial conditions so far. New student Vu Xuan Toan from class 62 of Tourism Service Administration and Travel Department who received a full ride scholarship said: "I am very grateful to Khatoco. I am so surprised and happy to receive this scholarship. For me, this is a great and meaningful present. I promise to study harder in order not to disappoint aunts and uncles from Khatoco who have helped me.".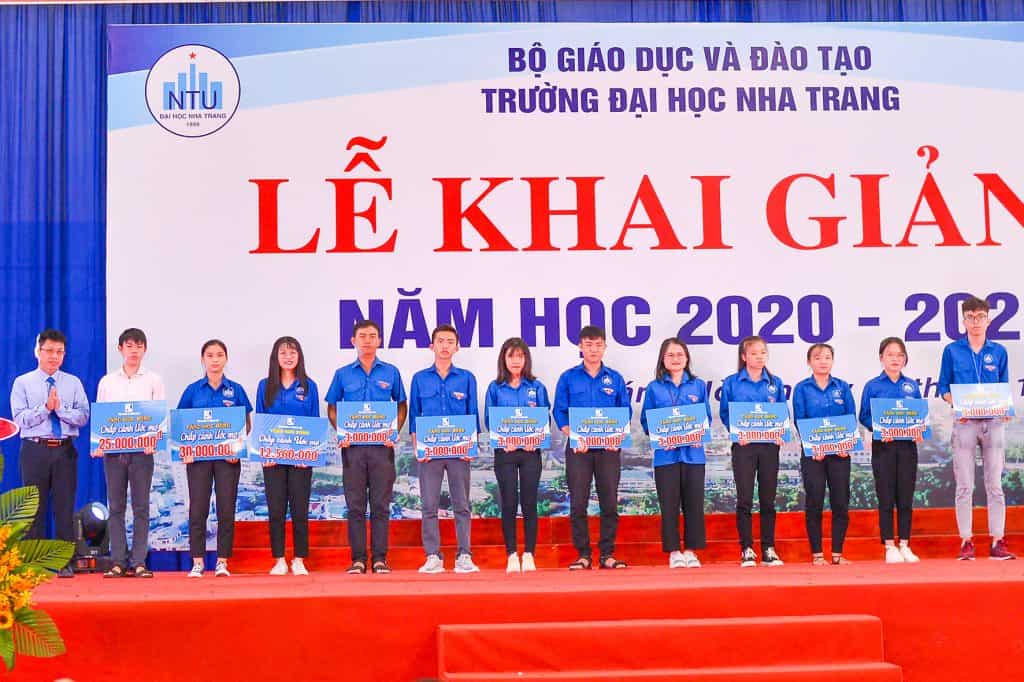 Mr. Nguyen Thanh Tuyen awards scholarships to the students of Nha Trang University.
On the occasion of beginning the 2020-2021 school year, Khanh Viet Corporation cooperated with Khanh Hoa Association for Promoting Education, Khanh Hoa Newspaper, Trade Union and Youth Union of Khanh Viet Corporation donated clothes, notebooks, schoolbags and scholarships to students under difficult circumstances in Khanh Hoa province with the total amount of over VND 300 million in order to encourage them to overcome the difficulties to study harder. Especially, Khatoco awarded 02 full ride scholarships, worth VND 25 million each to 02 new needy students. This scholarship covers all the tuition and living cost for the first school year.
On the principle "Social responsibilities attach to the development process of the company", annually Khatoco uses nearly VND 2 billion for social activities such as building gratitude houses, donating money to charity kitchen at Khanh Hoa provincial hospital, sponsoring Yersin charity clinic, awarding scholarships to students, participating in hunger eradication and poverty alleviation program and other social, charitable activities …