On June 12, 2020, in Ho Chi Minh City, High Quality Vietnamese Product Business Association solemnly held the ceremony of giving certificate of High Quality Vietnamese Goods 2020-2021 to the enterprises in the southern region. Khanh Viet Corporation was honored to receive this title voted by consumers for 14th times.
The survey of high quality Vietnamese goods 2020 was done from October to December 2019. 12,699 households and 2,564 sellers in provinces and cities in key economic centers of 4 regions: The North, the Centre and the Southeast and the Southwest were interviewed directly by 120 interviewers, 40 regional managers and supervisors nationwide. Additionally, the organizers applied an online survey using specialized app, email and phone that received 2,000 responses.
As the result of the survey, 604 enterprises were eligible for receiving the certifications of High Quality Vietnamese Goods 2020. These enterprises operate in various business fields, including confectionery, canned foods, fresh foods, frozen foods, dried foods, instant foods, sauces, spices, milk, dairy products, non-alcoholic and alcoholic beverages, textiles, rubber products, garments, embroidery products, leathers, artificial leathers, cosmetics, pharmaceuticals…
This is the14th years, Khatoco fashion brand is honored to receive the High Quality Vietnamese Goods title. Khatoco commits to continue promoting the achievements, improving the product quality to meet various preferences of customers in 2020.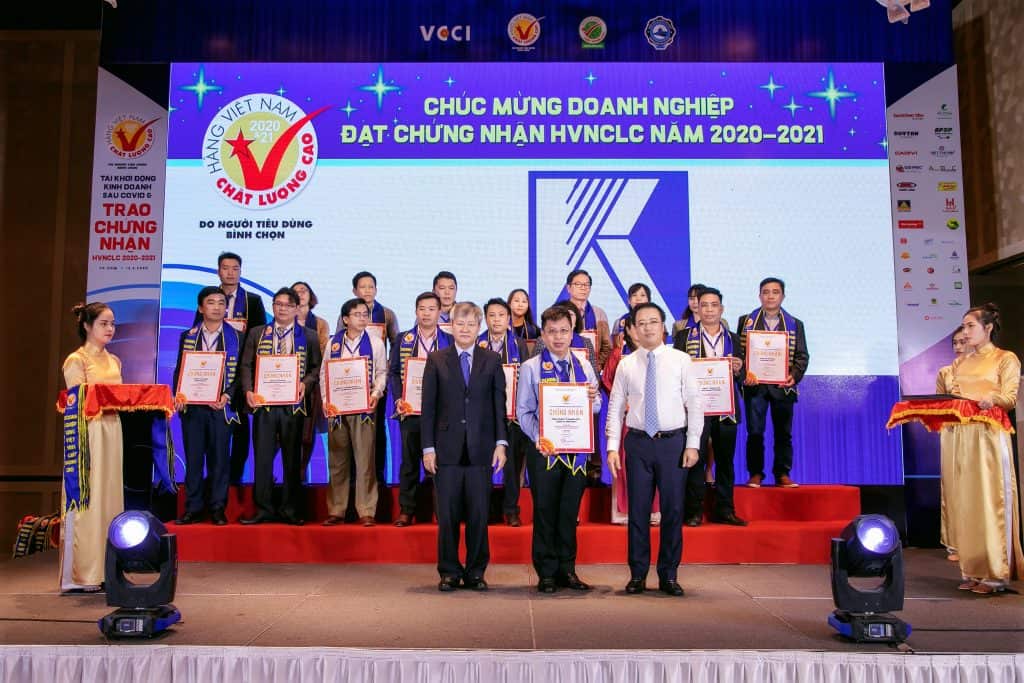 The representative of Khanh Viet Corporation receives the certificate of High Quality Vietnamese Goods 2020.
Khatoco would like to thank consumers for their trusting, using and voting for Khatoco fashion products. Khatoco commits to keep its prestige and to work with great devotion, constantly to improve the quality of products and services to become a trusted brand, "a companion" of every Vietnamese man.