On March 30, 2022, at Vietnam Gold Star Award 2021 rewarding Ceremony, Khanh Viet Corporation (Khatoco) was honored to receive the Top 100 Vietnam Gold Star Award 2021, continuing to affirm its position and prestige of an effective business contributing greatly to the state budget and being responsible for the community and society.
Starting from 2003, the Vietnam Gold Star Award is a noble prize with good reputation, co-organized by Central Ho Chi Minh Communist Youth Union, Central Viet Nam Youth Federation, Central Vietnam Young Entrepreneurs Association under the approval of the Government to honor typical Vietnam brands during the process of international integration and competitiveness.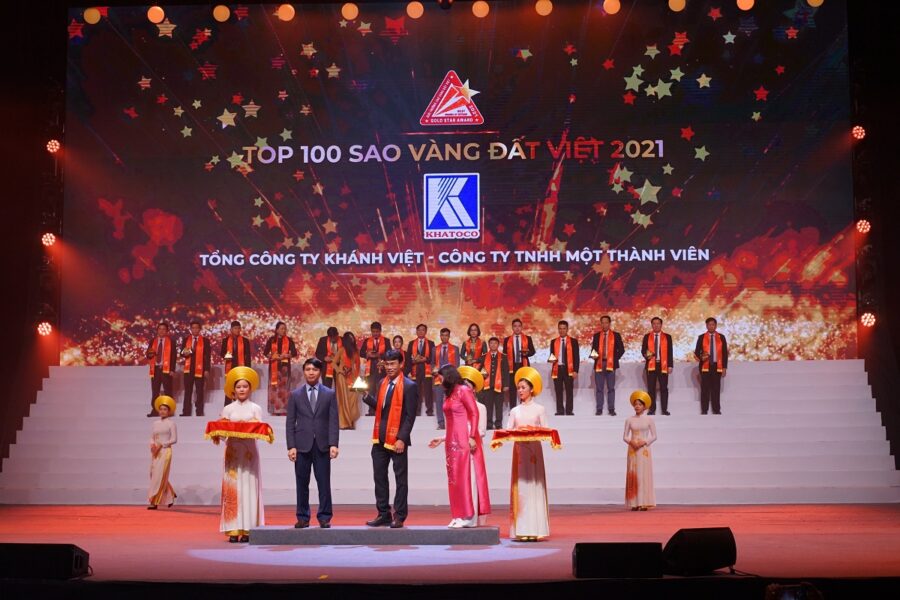 Khatoco's Representative receives the Top 100 Vietnam Gold Star Award 2021
294 businesses across the country were nominated for the Vietnam Golden Star Award 2021. After 3 rounds of section, the excellent businesses were selected TOP 10, TOP 100, TOP 200 typical Vietnam businesses to reward.
Reaching these awards, the businesses have to achieve excellent successes in revenue, profit, total assets, state budget payment, number of employees, active participation in social activities, creative innovation, digital technology application for business management, administration and production to overcome the negative effects of the Covid-19 pandemic. After the strict selection and appraisal process, Khatoco was honored to gain Top 100 Vietnam Gold Stars 2021.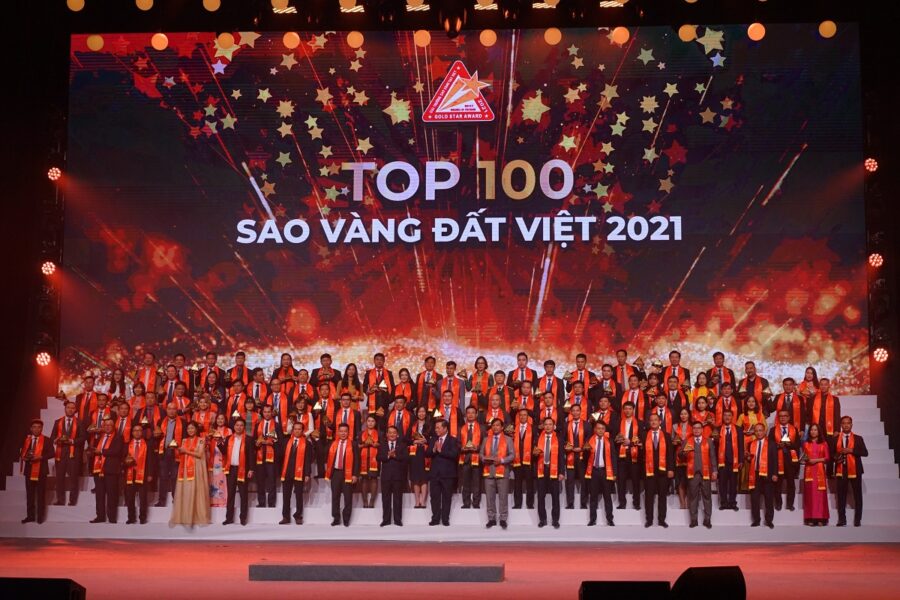 Businesses win the top 100 Vietnam Gold Star 2021
Last year, Khatoco's production and business activities were greatly affected by the serious outbreak of the Covid-19 pandemic. However, with the spirit of solidarity and determination of all the management and employees, Khatoco gradually overcame difficulties to maintain production and business, stabilized the life of employees and completed its duties at the highest level: Consolidated revenue of VND 6,732 billion, export turnover of USD 38 million, consolidated profit before tax of VND 295 billion, state budget payment of VND 2,621 billion reaching 108% of the targets assigned by the Provincial Government. With its great efforts, Khatoco continues to affirm its position of a leading business in Khanh Hoa province, contributing effectively to the local development.
In 2021, Khatoco was also voted the Top 200 Largest Enterprises in Vietnam (VNR500) by Vietnam Assessment Report JSC and Vietnamnet electronic newspaper. Khatoco Fashion products for men has consecutively gained the title of " The High-Quality Vietnamese Product" since 2004 and " The High-Quality Vietnamese Product – Global Integration Standards since 2019 when this prize just started.
Through 38 years of construction and development, Khatoco has developed into a multi-business economic group operating under the model of parent company – subsidiaries with 18 member units and six business fields: Tobacco, garment – fashion, printing – packaging, livestock – tanning, tourism and infrastructure of industrial zone – real estate.