This year, it is an honor for Khatoco Men Fashion Brand to continues to achieve the Title "High-Quality Vietnamese Product" for the 15th time.
A consumer survey to select high-quality Vietnamese products in 2022 was organized by the Business Association of High-Quality Vietnamese Products from November 2021 to January 2022. During the survey, 13,648 survey questionnaires in which there were more than 7,000 online questionnaires were collected from 60 provinces, cities across the country and 1,981 sellers in the provinces belonging to central key economic regions of Vietnam.
As a result, 524 enterprises have received the certificate of High-Quality Vietnamese products voted by the consumers. The winning enterprises have operated in a wide range of industries including confectionery, fresh and frozen food, dried and instant food, milk and dairy products, yarn and fabrics, rubber, garments, embroidery products, cosmetics, jewelry, medicines, household plastic products, ceramics and glass, household metal products, electric appliances…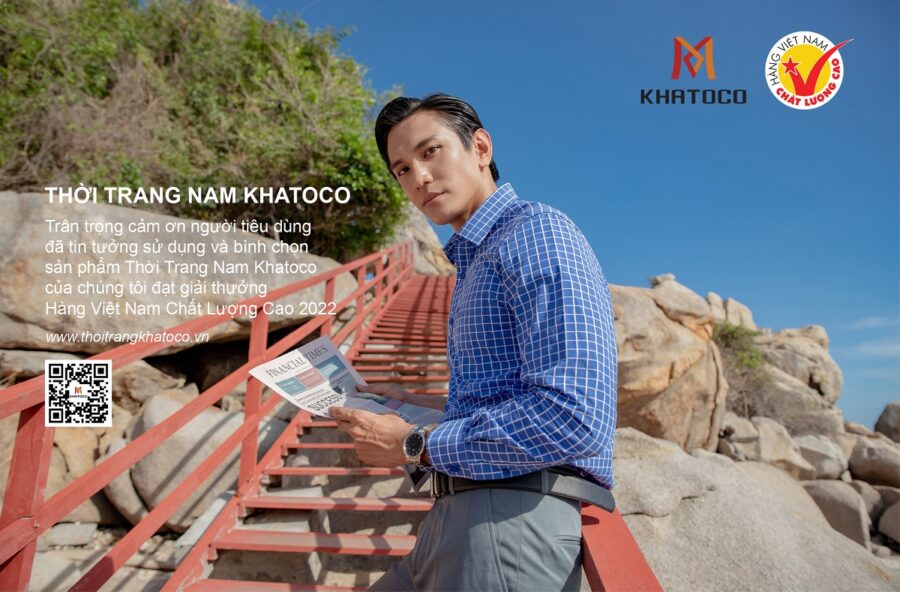 Khatoco Fashion Brand for men has consecutively gained the Title "The High-Quality Vietnamese Products" since 2004 and the Title "The High-Quality Vietnamese Products – Global Integration Standards since 2019 when this prize just started. This is a testament to the reputation and quality of Khatoco Men Fashion Brand on the markets and is also the motivation for Khatoco to continue improving the product quality and creating more new designs to meet the demands of domestic and foreign customers.
By investing in modern machinery and equipment, improving technology, focusing on product design and building a wide distribution network, at now, Khatoco Fashion Brand for men has been one of the best men's fashion brands in the country.
Besides traditional office wear for men like shirts, trousers, khaki pants… Khatoco always brings customers new emotional experiences in each modern product line such as fashionable mixed shirts, Polo shirts, T-shirts, shorts …with unique designs catching international fashion trends to help wearers feel more confident.
Aiming at providing customers more convenient shopping, Khatoco's fashion products for men have been available at many showrooms, distribution systems and big supermarkets in over the country. Additionally, customers can enjoy convenient online shopping at website: thoitrangkhatoco.vn or e-commerce websites such as: Tiki, Lazada, Shopee, Sen Do…