After stressful school days, outside activities such as sightseeing tour, picnic, and travelling … are most expected by children. These activities are considered as a learning method to help children explore the surrounding world, learn more interesting things in life and attach closely with families, friends and schools.
Yang Bay Tourist Park is located in the middle of a large valley with an area of ​​570 hectares in Khanh Vinh district, Khanh Hoa province. Having fresh air and green space, this is ideal place for sightseeing and picnic. Being away from the crowded and noisy city, children can explore the colorful nature with majestic forests and mountains, white waterfalls, murmuring streams …and experience a lot of unique games.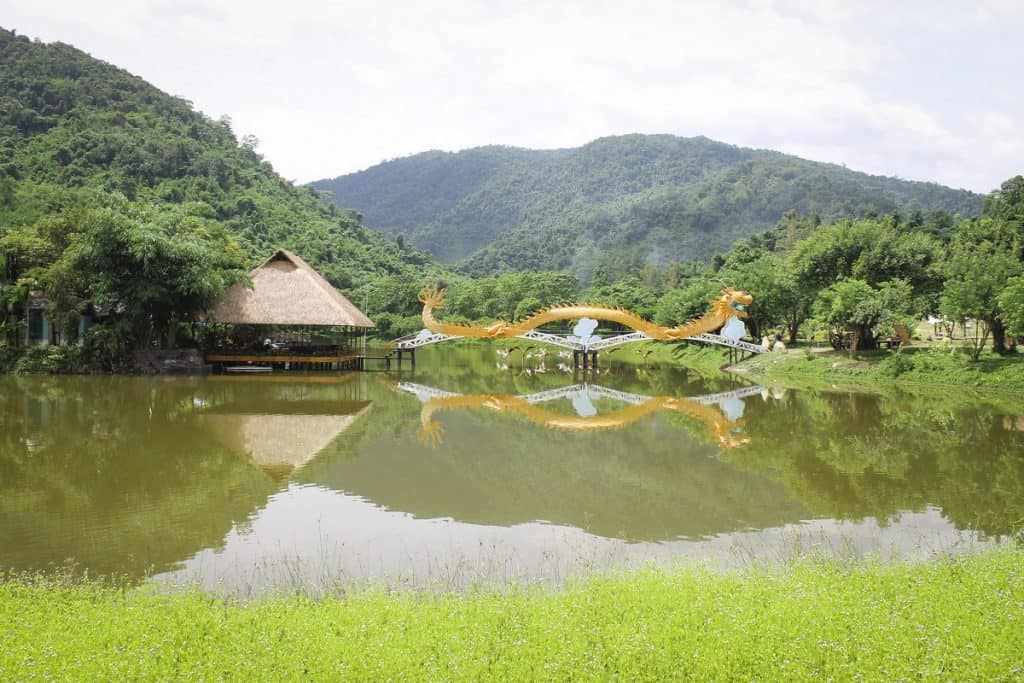 Green space of Yang Bay Tourist Park
Children will admire Moc Than tree with an age of 500 years, a spiritual symbol of the Raglai people, and listen to mystery legend about it. Moc Than tree includes 3 trees twisting with each other. It is 25 meters high with its canopy of 200m2. Around 20 people can hug around its trunk. The local people believe that Moc Than tree can protect their village and brings peace to people. Prayers of peace, health and luck will be sent to God through red and yellow silk ribbon hanging around the tree.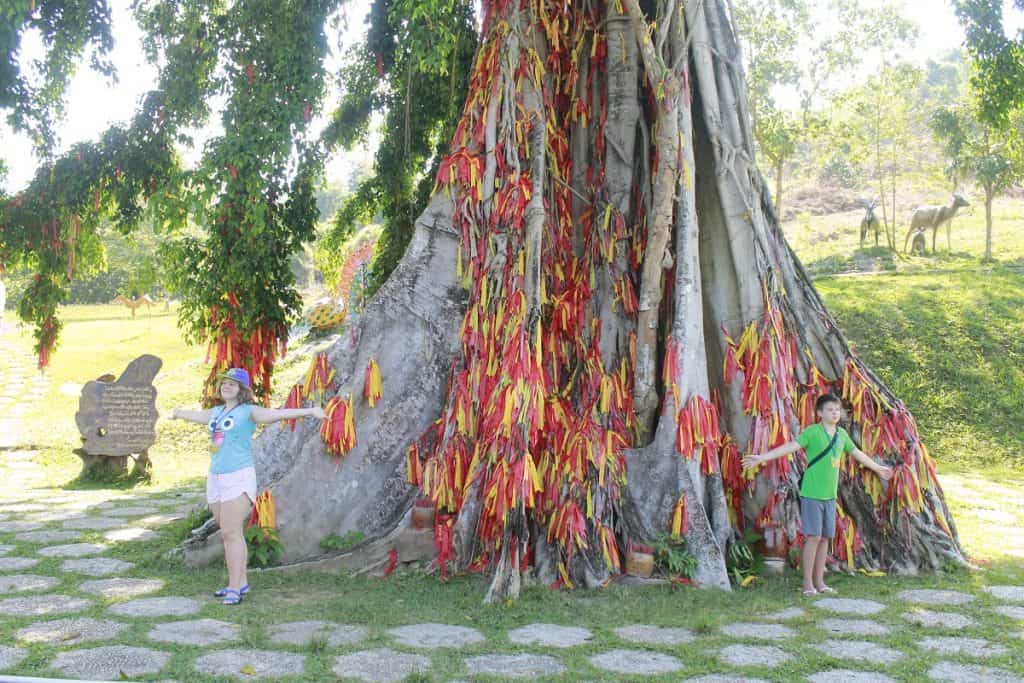 Moc Than tree at Yang Bay
Sitting on electric cars, children can enjoy abundant of colorful flowers blooming seasonally along the roads. Whenever spring comes, Yang Bay park seems to be put on a beautiful pink and white coat full of cherry blossom. Under cherry trees, some white horses are leisurely grazing. All create a very peaceful picture.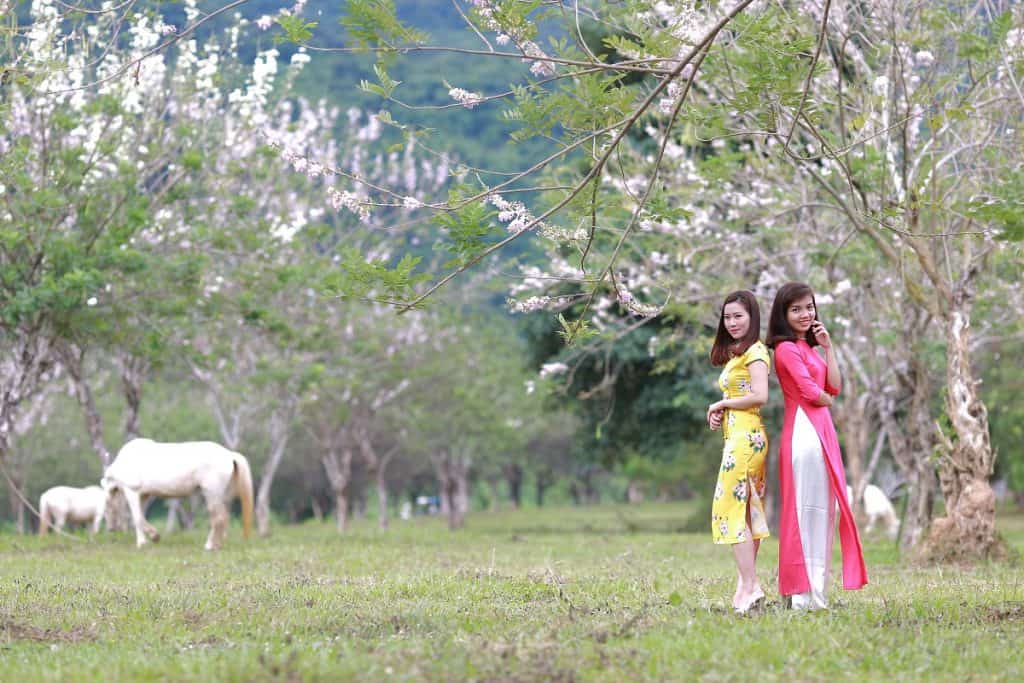 Cherry blossoms are blooming at Yang Bay park whenever spring comes.
Yang Bay park has a mini zoo with rare breeds of chickens, spotted deer, monkeys, rabbits, salamanders, wild boars, splendid peacocks, wild ostriches, crocodile … and a bird garden having thousands of colorful birds. Children can touch the soft feathers of the birds, feeding them while listening to their melodious songs. Especially, there is a dinosaur statues park to recreate many species of mighty dinosaurs which seem to bring children back to the Jurassic.
Additionally, children are attached by many exciting folk games such as pig racing, cockfight … and "unique" games found only in Yang Bay such as fish feeding with bottle, crocodile fishing, ostrich riding … These games promise to give much exciting experiences to children.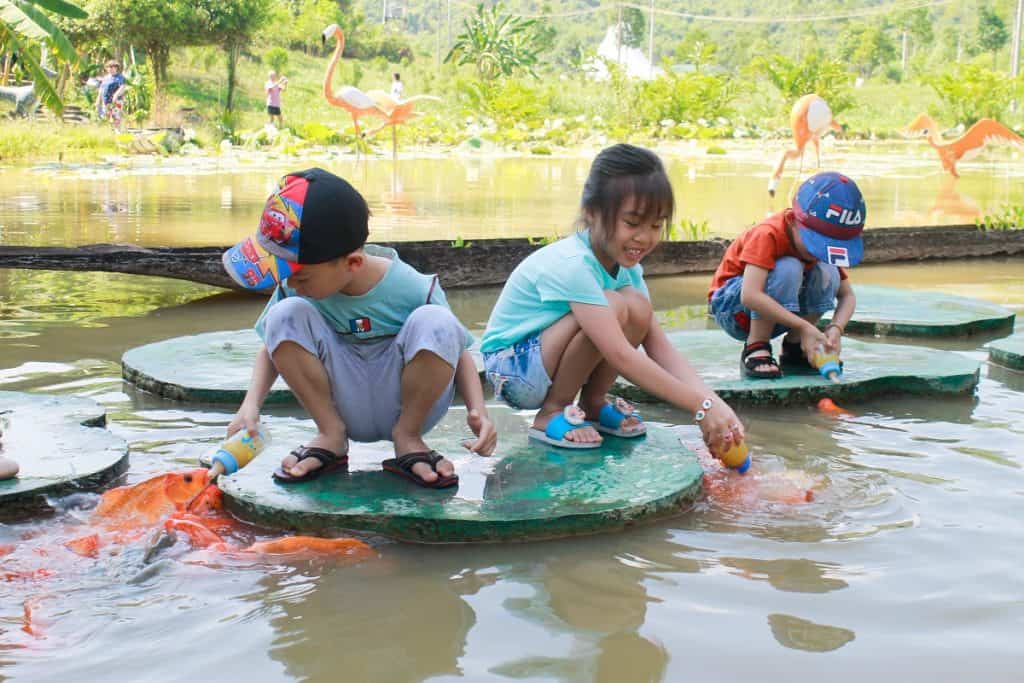 Children are feeding fishes with bottles
70% of population in Khanh Vinh district is Raglai minority people so Raglai traditional culture is vividly displayed here. Children can learn about Raglai people's culture through their traditional costumes, stilt houses, dances and music from traditional musical instruments. Children not only enjoy the performances on stage, but also try playing many kinds of musical instruments and dance with Raglai dancers.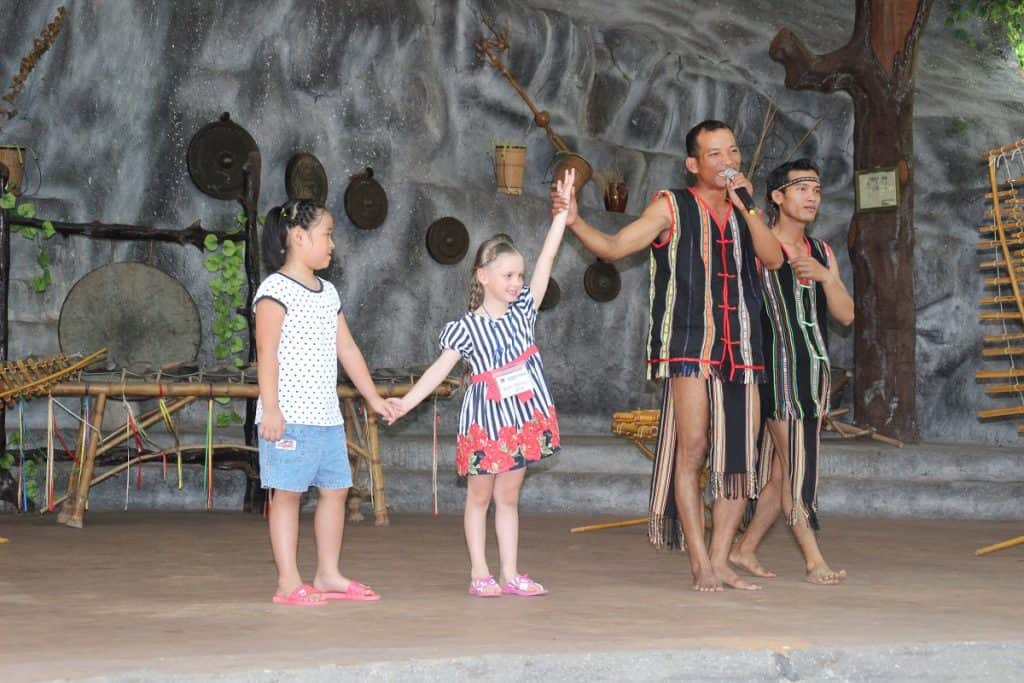 Experiencing the Raglai people's traditional culture
After freely discovering the nature and playing games, children will enjoy hot mineral bath and mud bath. Hot mineral springs flowing out from the fissures of rocks at Ho-cho waterfall to create very special hot mineral pools at the middle of forests and mountains. These pools were designed to locate along the natural rocks to make children feel close to the nature.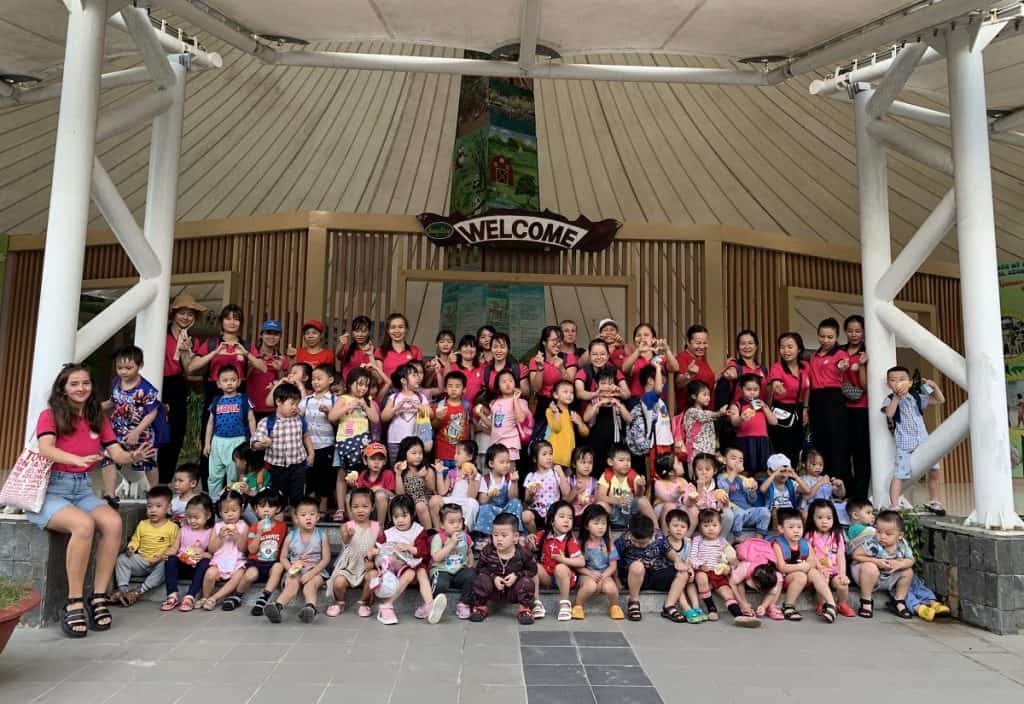 Children of Little Stars Nha Trang kindergarten are visiting Yang Bay park
Taking part in interesting activities at Yang Bay park under the guidance of parents and teachers will help children explore the natural world as well as learn a lot of useful things.