On December 7, 2020, Khanh Viet Corporation (Khatoco) in cooperation with Khanh Hoa Newspaper hold a ceremony to offer the house to Mrs. Ho Thi Nhan's household, a poor family in Suoi Cat commune, Cam Lam district, Khanh Hoa province.
This house was started to build from early November, 2020 with the area of ​​​​52m2. It is very solid with concrete wall, corrugated iron roof, tiled floor and includes living room, bedroom, kitchen and bathroom. Mr. Nguyen Thanh Tuyen, Vice Chairman of the Trade Union of Khanh Viet Corporation said that the construction cost of this house was over VND 80 million dong taken from Khatoco's welfare fund.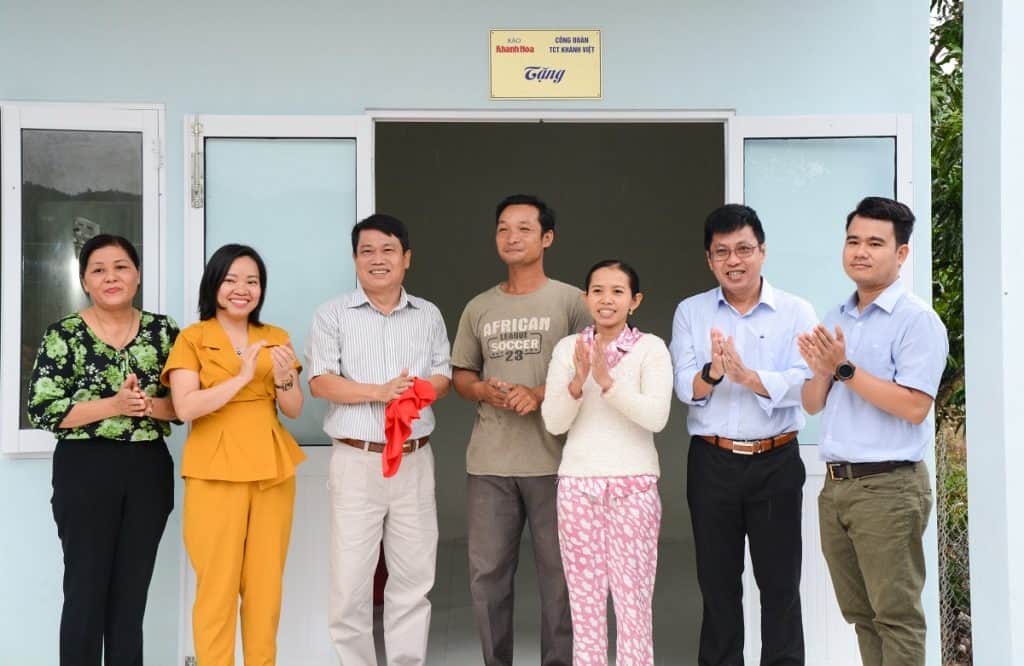 Leaders of Khanh Hoa Newspaper, Khanh Viet Corporation and People's Committee of Suoi Cat Commune hand over the new house to Mrs. Ho Thi Nhan's family.
In the new house offered by Khatoco, Mrs. Ho Thi Nhan happily shared her emotion with us "This is the dream house of my family. We appreciate Khatoco and Khanh Hoa Newspaper so much for taking care of my family and presenting us this house, especially before the winter of this year. We will no longer worry about housing problem and will only concentrate on home economics development to get rid of poverty".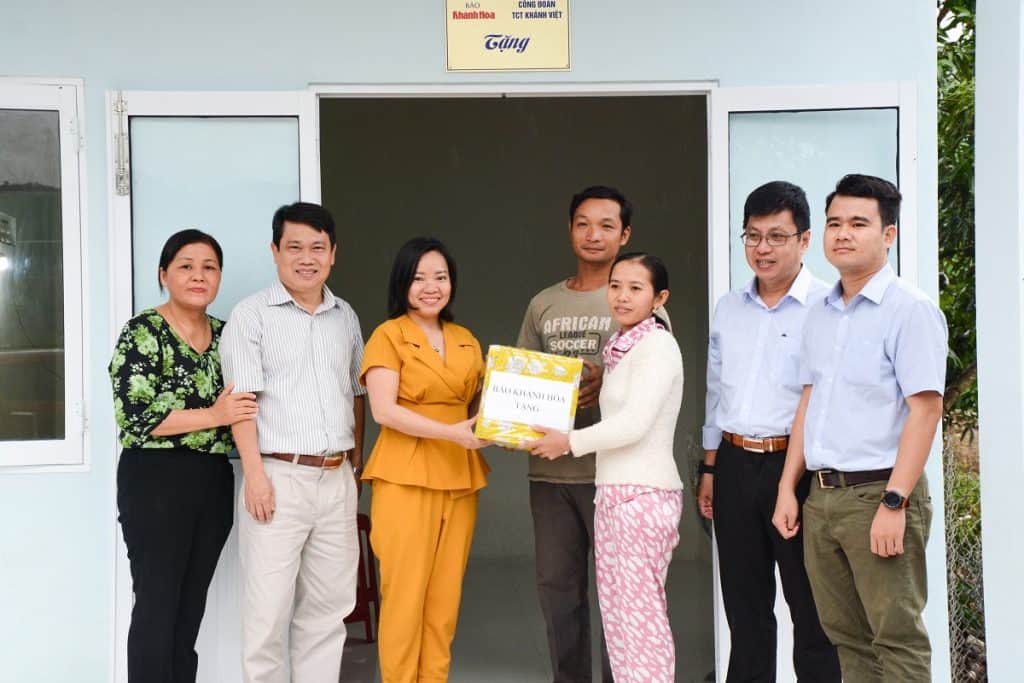 The leader of Khanh Hoa Newspaper gives present to Mrs. Ho Thi Nhan's family.
Mrs. Nguyen Thi Yen, Vice Chairman of People's Committee of Suoi Cat Commune expressed her thankfulness to Khatoco for its supporting the local people so far. She said "Khatoco has sponsored to build 3 houses for the poor families in our commune up to now. I hope that in the coming time, Khatoco will continue to support the local people so that many other poor families will have houses to stabilize their lives and come out of poverty.".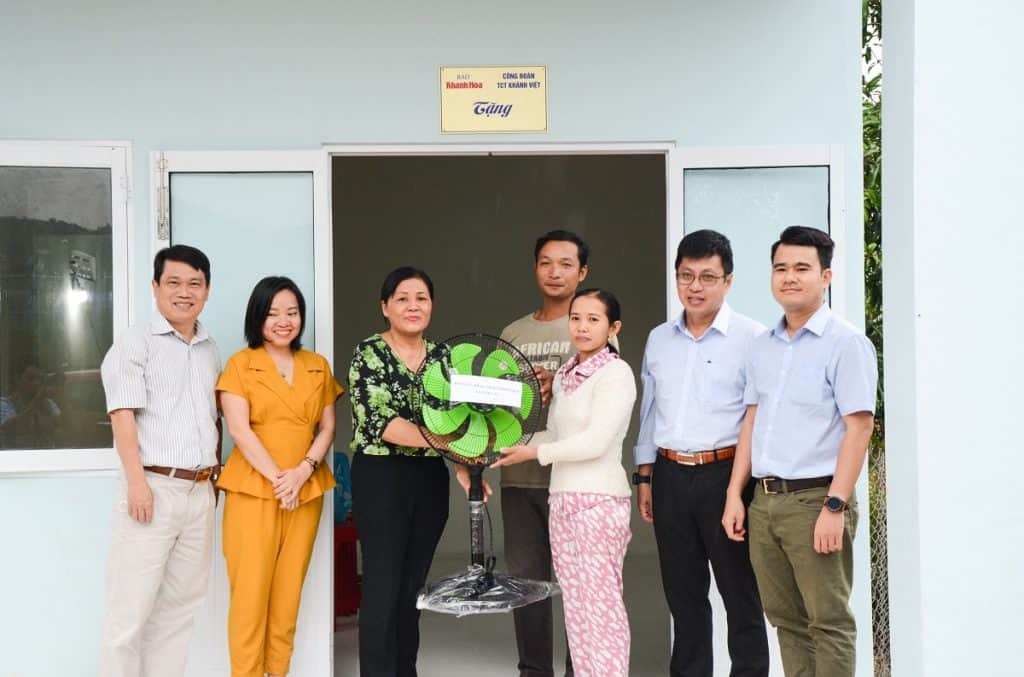 The Representative of the People's Committee of Suoi Cat Communes give present to Mrs. Ho Thi Nhan's family.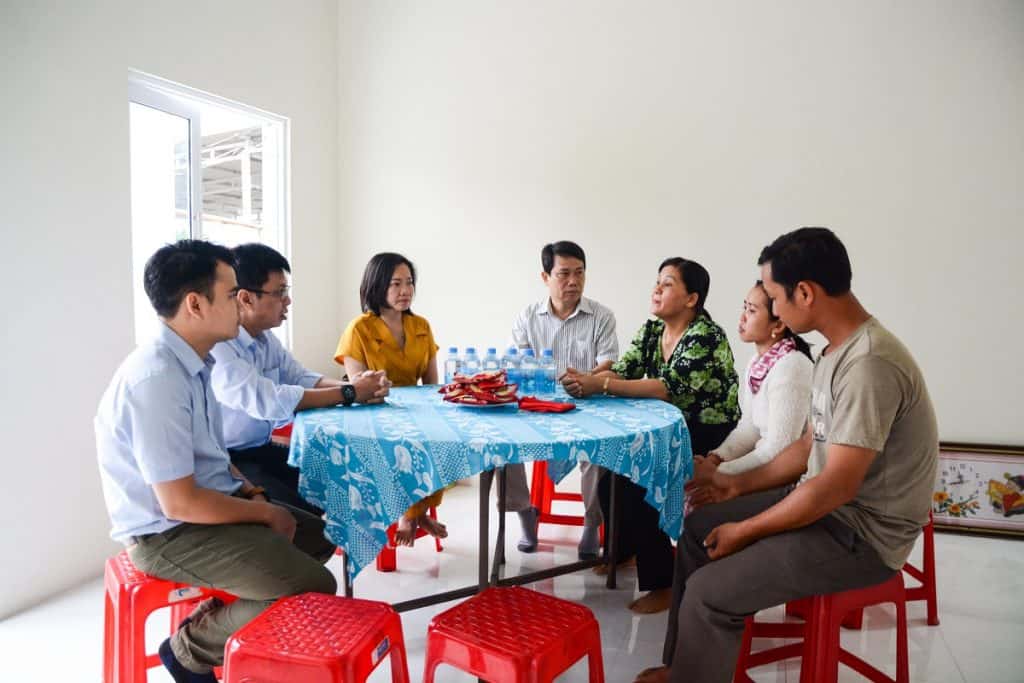 Inside the new house donated by Khatoco
Besides the core duty of promoting production and business together with taking care of employees' lives, Khatoco always identifies that social and charity work is an indispensable duty during its sustainable development journey. In 2020, Khatoco co-operated with Trade Union and Youth Union to carry out many programs towards community such as awarding scholarships to excellent students in difficult circumstances; offering uniforms, books, notebooks and schoolbags to poor students on the occasion of the beginning of new school year; supporting the charity kitchen at Khanh Hoa General Hospital; donating VND 2 billion to Yersin charity clinic; donating VND 400 million and 25,000 notebooks to flood victims in the central region; presenting a digital subtraction angiography system (DSA) worth VND 29 billion to General Hospital of Khanh Hoa province to contribute to the improvement of public health care quality.
These practical and meaningful social activities of Khatoco not only provide the people with material and spiritual support but also educate Khatoco's employees effectively about the spirit of humanity and responsibility sharing with community and society. The mutual solidarity and assistance has become a cultural beauty of Khatoco's tradition which is always preserved and continues to be promoted in the coming future.