The tourism promotion program launched by Khanh Hoa tourism industry has lasted from this June to the end of 2020 with 3 messages: "Vietnam is safe", "Vietnamese people travel inside Vietnam" and "Nha Trang sea is calling".Up to now, 75
businesses have participated in this tourism promotion program, including 50 big hotels and resorts,13 tourist areas;10 travel companies and some passenger transportation companies. All these businesses have agreed to reduce the prices by 20% to 50% while ensuring the quality of services and products.
Most of tourism service companies and amusement areas in Nha Trang city, Khanh Hoa province have resumed work simultaneously. Mr. Tran Minh Duc, Chairman of Khanh Hoa Tourism Association, said that because of the serious effects of Covid-19 pandemic, most of entertainment areas as well as tourism services in Nha Trang City had to close during over 3 months. That time was an opportunity for tourism businesses to repair and upgrade their material facilities and services. Monkey Island and Hoa Lan Island managed by Khatoco company has resumed welcoming visitors since June 1, 2020 with very attractive promotion program. Entrance ticket price has been cut down by 35% until September 20, 2020 so the entrance ticket to Monkey Island is still only VND 63,000 per child and VND 126,000 per adult. The entrance ticket price to Hoa Lan Island is only VND 95,000 per child and VND 154,000 per adult.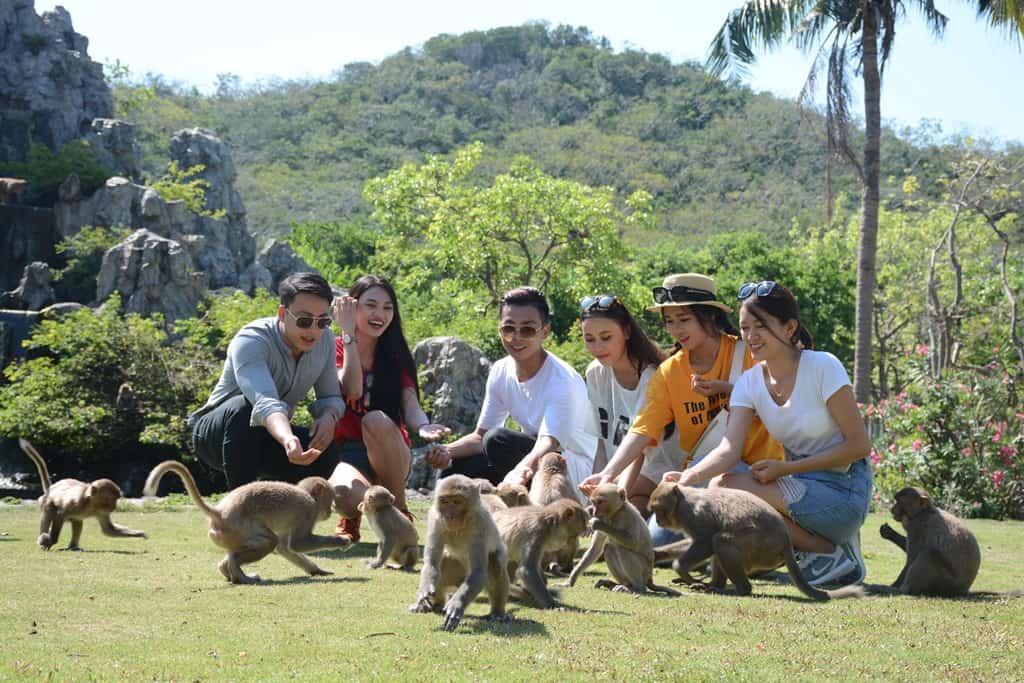 Monkey Island has re-opened to welcome tourists after 3 months of closing because of the Covid-19 pandemic.
Yang Bay Tourist Park has re-opened to welcome tourists since May 30, 2020. All kinds of service packages have been cut down the prices by 20% until August 31, 2020. "Ducashow", a unique cultural and artistic show in Nha Trang, has started from June 9, 2020 to meet the entertainment demand of tourists at night. The show has offered an attractive discount of 60% for Vietnamese. Ticket price reduces from VND 590,000 to only VND 240,000 per adult and from VND 490,000 to only VND 200,000 per child. Mr. Nguyen Huy Han, on behalf of of Ducashow's investors said that the show is open in order that the actors can return to work at the earliest time to overcome their financial difficulties as well as refine their performance skills together.
Mr. Tran Viet Trung, Director of Khanh Hoa Department of Tourism, said that the promotion activities will focus on three matters: Control the pandemic well; Ensure the safety of tourists; Reduce the service prices but not reduce its quality; Enhance the state's management of the tourism. Any tourism company which causes bad effects on tourist benefits of will be strictly punished. Khanh Hoa Tourism industry aims to welcome 3.2 million visitors in which international visitors is over 1.5 million in 2020.
Source: Labor Newspaper